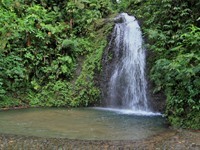 Excursion de la Côte Nord-Caraïbe / North Carribbean Coast Excursion
Réservez votre excursion sur notre site internet, lors de votre réservation de chambre, à partir de l'option "Ajouter des extras" et du lien "North Caribbean Coast Tours". Avec le North Caribbean Coast Tours, découvrez la Montagne Pelée, les Pitons du Carbet, des cascades, les ruines de la Ville de Saint-Pierre détruite par le volcan en 1902, l'Habitation Depaz, notre gastronomie créole, la Côte Nord-caraïbe et ses surprises. Prix : 80 euros/pers (repas au restaurant non inclus).
Book your excursion on our website when you book your room! You just have to go on the link "Add extras" ("Ajouter des extras") and click on the option "North Caribbean Tours". With the North Caribbean Tours, discover the Montagne Pelée, the Pitons du Carbet, waterfalls, the ruins of Saint-Pierre destroyed by the volcano in 1902, the Habitation Depaz, our creole food, the North Caribbean Coast of Martinique... Price : 80 euros/pers (lunch at the restaurant not included).