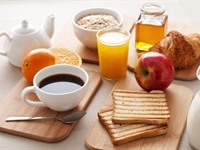 Petit-déjeuner continental / Continental breakfast
Découvrez notre petit-déjeuner continental à 10 euros/personne s'il n'est pas inclus dans le prix de votre chambre ! Vous pouvez l'ajouter en option lors de votre réservation de chambre sur notre site, à partir de l'option "Ajouter des extras", puis cliquez sur le lien "Continental Breakfast".
Discover our continental breakfast if it is not included in the price of your room ! Price : 10 euros/pers. You can add it in option when you book your room on line : just go on "Add extras" and click on the link "American Breakfast"